Events in 2022
Our Fall-Fundraiser "The Bethany Bash" is back this year! See Below: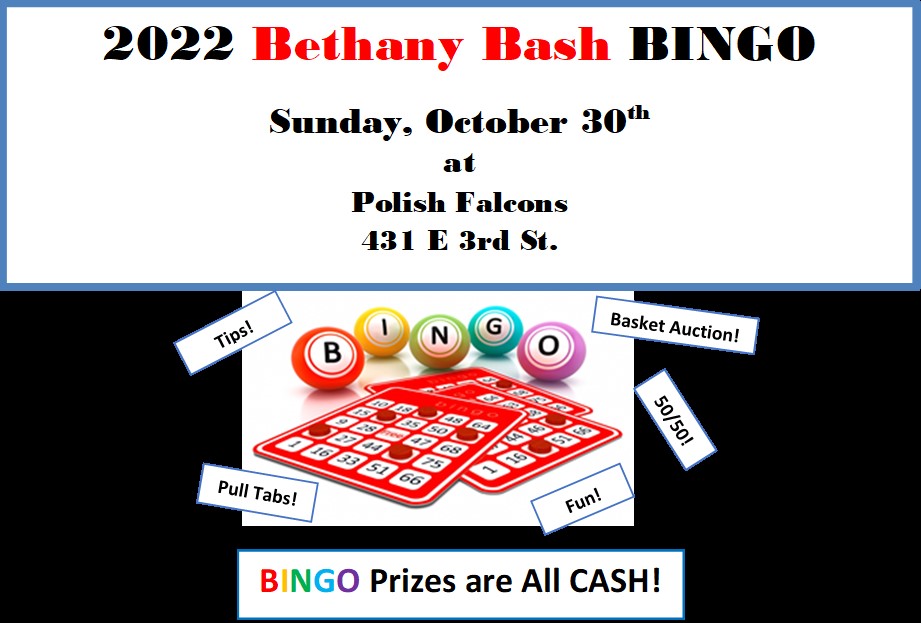 Doors open at 12 Noon
BINGO Starts at 1 pm
Tickets are $25 and include

9 BINGO games with $100 prizes
1 BINGO game with $300 prize
Tips, Basket Auction, & 50/50, Pull Tabs
Food and Drinks available for purchase
Call 814-456-6254 to reserve your seat!
Walk-Ins Welcome!
You can also buy tickets at the door
For tickets or more information, please call BOC Mon- Wed, 9am-1pm at 814-456-6254 or email us at mabel@bethanyoutreachcenter.org
Would you like to help sponsor the 2022 Bethany Bash?
To see how, view or print the Commitment Form in the following link that explains the different ways you can help . . .
https://bethanyoutreachcenter.org/wp-content/uploads/2022-BINGO-Sponsor-Donation-Commitment-Form-Rev-A2.docx
. . . or to make an online donation, simply go to the Home page, click the "Donate" button, and enter the amount and also type the word "BASH" in the optional text
To see why, view the letter to Friends of Bethany Outreach in the following link:
https://bethanyoutreachcenter.org/wp-content/uploads/2022-BASH-BINGO-letter-10-4-2022.docx