Outreach Ministries
Jesus said, "For I was hungry and you gave me something to eat." We supply food for 150-200 families per week.
Jesus said, "I needed clothes and you clothed me." We supply clothes to 150 families per week.
Jesus said, "Truly I tell you whatever you did for the least of these brothers and sisters, you did for me."
"Volunteers are unpaid, not because they are worthless, but because they are priceless"
The center is operated by two paid part time staff and many volunteers who serve our center each week. GECAC Careerlink provides the Center with three volunteers, each giving twenty hours each week. Other Volunteers are from the community, Opportunities Unlimited, the Dept. of Corrections, Gaudenzia, Safenet, Gannon University, Mercyhurst University and Perseus House. In 2015, 657 unduplicated volunteers served 7,631.5.  hours which has saved Bethany $190,787!
Volunteers are always needed to serve as helpers in the Pantry or Clothes Closet. Instructors are always needed in each of our areas.
Call 456-6254 and schedule a time to volunteer.
SERVICES PROVIDED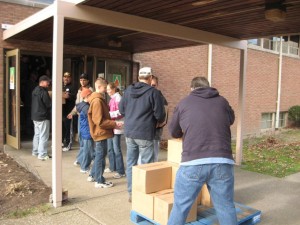 FOOD PANTRY
Every Wednesday 9:00 AM – 11:00 AM.  Now off of the German Street Entrance
Geographic Area:  From East 9th to East 18th Streets, from State Street to Holland Street; From East 9th to East 16th Streets, from Holland Street to Parade Street; From East 9th to East 12th Streets, from Parade Street to Reed Street
CLOTHES CLOSET
                             Every Tuesday and Thursday  9:00 AM – 11:00 AM.                                   Available to residents of the Lower East Side
AFTER SCHOOL YOUTH PROGRAM
For Teens 14-18 years of age Every Wednesday from 3:30 PM – 7:00 PM.  Providing a safe place for homework, computer, classes, games and snacks.  We hope to add more days in the near future.
STORY TIME – Begins April 15th, 2017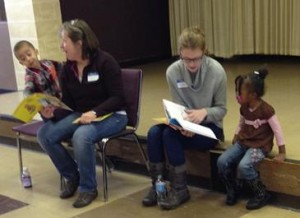 Bethany Storytime Program:  The Bethany Outreach Center will begin its 6-week Spring 2016 Reading program on Saturday, April 16th targeted for the children of its clients in the neighborhood who are ages 3 – 9.  We could use . . .
–  
Vo

lunteers for reading, registration, crafts and refreshments (10 am-Noon)
–
 Donations

for this program — please make out a check to Bethany Outreach Center with memo "Storytime"
Books on the "Bethany Storytime – Books Wanted 2016" list – click here:   Recommended Reading 2016 extract.  Printed copies of the list are available in the Bethany Office
If you are able to help them with any of these items or have questions, please contact Eric Hedlund by email at eric@bethanyoutreachcenter.org or by phone at 814-898-1233.
OUR CLASSES CONSIST OF
COMPUTER:  Basic Microsoft skills Relate to each student individually to improve their computer skills
JOB SEARCH AND RESUME BUILDING:  Offering one-on-one help with job search, job resumes and interview skills
JOB READINESS:  Work-readiness skills. Create resumes and cover letters, proper attire and demeanor during an interview. Experience Mock interviews.
HOME BUDGETING:  Financial Planning and Money Management Class. Learn how to budget for basic necessities and set financial goals for future growth and stability in each living situation Offering: One-on-one help with personal finances.
VOLUNTEER OPPORTUNITIES
EVERY MONDAY – FRIDAY  8:00 – Noon                                                                                                      Help is needed in the Clothes Closet.  4,000 pounds of clothing are delivered each mont.  Sorting and Hanging and help on Tuesday and Wednesday during clothes Closet Hours 9:00 – 11:00 AM.  All of our items are free.
EVERY WEDNESDAY          Mentors for our After School Teen Program      3:30 – 7:30 PM
SPECIAL EVENTS
APRIL 16th  Erie Insurance Arena    Help is needed to sell 50-50's at a Cheerleading Competition and collect Cereal which will be brought in.  Call 456-6254 for more information.                                      We could use volunteers any time from 9:00 AM – 4:00 PM
APRIL 15th    SATURDAY MORNINGS     Story Time Beginning April 16th – a six week program  10:00 – Noon.  Readers are needed For children 3 – 10 years of Age.