Outreach Ministries
Jesus said, "For I was hungry and you gave me something to eat." We supply food for 150-200 families per week.
Jesus said, "I needed clothes and you clothed me." We supply clothes to 150 families per week.
Jesus said, "Truly I tell you whatever you did for the least of these brothers and sisters, you did for me."
"Volunteers are unpaid, not because they are worthless, but because they are priceless"
The center is operated by two paid part time staff and many volunteers who serve our center each week.
*In 2017 over 227 unduplicated volunteers gave 9,765 hours of their time to make a difference in the lives of those in need.
Volunteers are always needed to serve as helpers in the Food Pantry or Clothes Closet. The Storytime program always welcomes volunteers, and instructors are always needed for our classes.
Call 456-6254 and schedule a time to volunteer.
SERVICES PROVIDED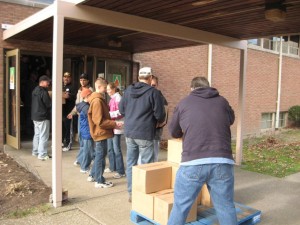 FOOD PANTRY
Every Wednesday 9:00 AM – 11:00 AM.  Now off of the German Street Entrance
Geographic Area:  From East 9th to East 18th Streets, from State Street to Holland Street; From East 9th to East 16th Streets, from Holland Street to Parade Street; From East 9th to East 12th Streets, from Parade Street to Reed Street
* In 2017 there were 4,390 visits to our food pantry by 1,705 unduplicated clients.
THE CLOTHES CLOSET
Every Tuesday and Thursday  9:00 AM – 11:00 AM.
Available to residents of the Lower East Side
*In 2017 there were 4,291 visits made to our clothes closet by 3,357 unduplicated clients.  We received over 38,759 pounds of clothing and household goods.
#IMPACT AFTER SCHOOL TEEN PROGRAM
Wednesday evenings from 3:30 PM – 7:00 PM.
For Teens 14-18 years of age
*In 2017 there were 48 students enrolled in the program with an average attendance of 17 to 20 youth.
STORYTIME SATURDAY READING PROGRAM

Spring and Fall  6 Week Sessions
Saturdays from 10:00 am – Noon
For the children ages 3 – 10
Click on the Events Page for the Spring 2018 dates
* In 2017 eleven families attended in the spring and twelve families attended in the fall.  156 books were distributed to the children; made possible by Hooked on Books.
CLASSES OFFERED
COMPUTER:  Basic Microsoft skills Relate to each student individually to improve their computer skills
JOB SEARCH AND RESUME BUILDING:  Offering one-on-one help with job search, job resumes and interview skills
JOB READINESS:  Work-readiness skills. Create resumes and cover letters, proper attire and demeanor during an interview. Experience Mock interviews.
HOME BUDGETING:  Financial Planning and Money Management Class. Learn how to budget for basic necessities and set financial goals for future growth and stability in each living situation Offering: One-on-one help with personal finances.